El festival gallego Resurrection Fest, ha vuelto a cumplir su promesa y hoy a las 11 de la mañana han confirmado quince nuevas bandas, te contamos los detalles a continuación.
Después de la primeras confirmaciones el pasado 01 de Diciembre, hoy volvemos a tener  novedades , las nuevas confirmaciones son las siguientes:
Mastodon, Sabaton, Enter Shakiri, Annihilator, Obituary, Krisiun, Holocausto Cannibal, Revolution Whithim, Blaze Out, Quaoar, Porco Bravo, Vice Presidentes, Ånima, Late to Scream y  Soziedad Alkoholika.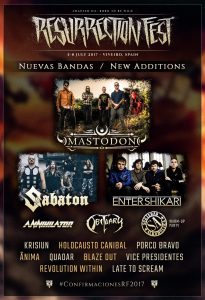 Estas bandas se suman a las ya confirmadas que repasamos a continuación
Rammstein, Rancid, Dropkick Murphys, Airbourne, Suicidal Tendencies, Arch Enemy, Agnostic Front, Mayhem, Eluveitie, Architects,
Red Fang, Comeback Kid, Napalm Death, Animals As Leaders, Terror,
The Bouncing Souls,Orange Goblin,
Snapcase, Korpiklaani, Pentagram,
Warbringer, The Devil Wears Prada,
Truckfighters, The Black Dahlia Murder, Deez Nuts,The Vintage Caravan, Lost Society,Alcest, Northlane, Karma To Burn, All Out War, Taake, Bury Tomorrow, Wisdom In Chains,
Conan, Lords of Black, Wolf Down,
Mantar, D.Y.S., Benighted, Adrift, Besta,Malevolence, Stray Train, Noctem,
Vita Imana, Bastards, Guerrera,
Legacy of Brutality, Reality Slap, Böira,
Mutant, The Inspector Cluzo,CRIM, Killus, Morphium,
Trashnos,The Blackjaw, El Altar del Holocausto, Teething, Bala, Tragic Vision,Brothers Till We Die y One For Apocalypse.
Las entradas las puedes comprar aqui, recordamos que el festival gallego se celebrará los días  5,6,7 y 8 de Julio en localidad de Viveiro ( Lugo)