Hace unos días se dio a conocer  un nuevo  cabeza de cartel para la próxima edición del MetalDays, te contamos de quien se trata a continuación .
Ya tenemos  un cabeza de cartel para la próxima edición del festival esloveno que se celebra los días del 22 al 28 de  Julio, en Tolmin Eslovenia, las entradas están disponibles aquí.
La nueva confirmación es  Judas Priest que se une a un cartel que todavía no esta  finalizado.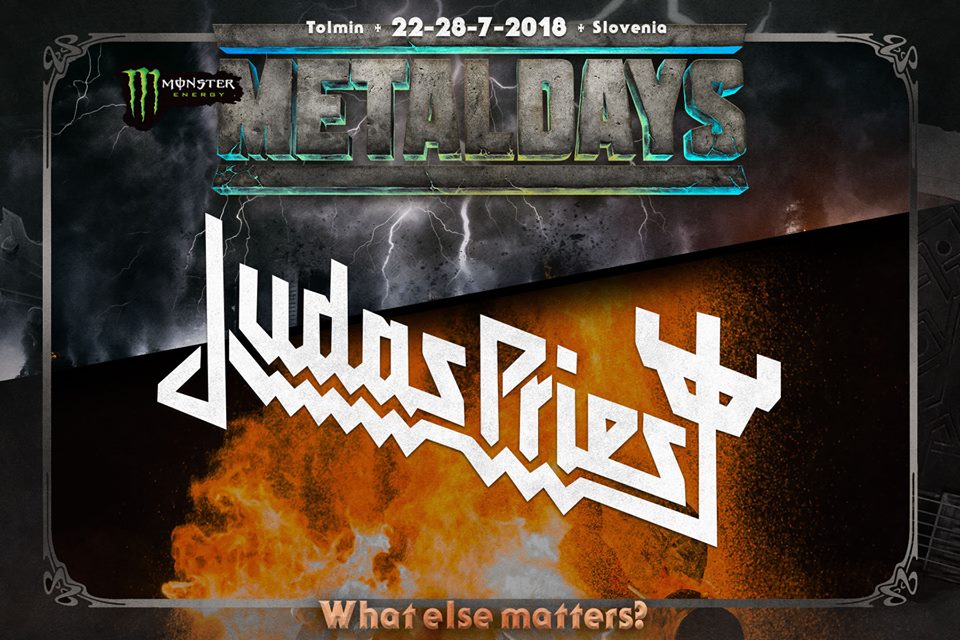 Aprovechamos para repasar todas las confirmaciones a continuación :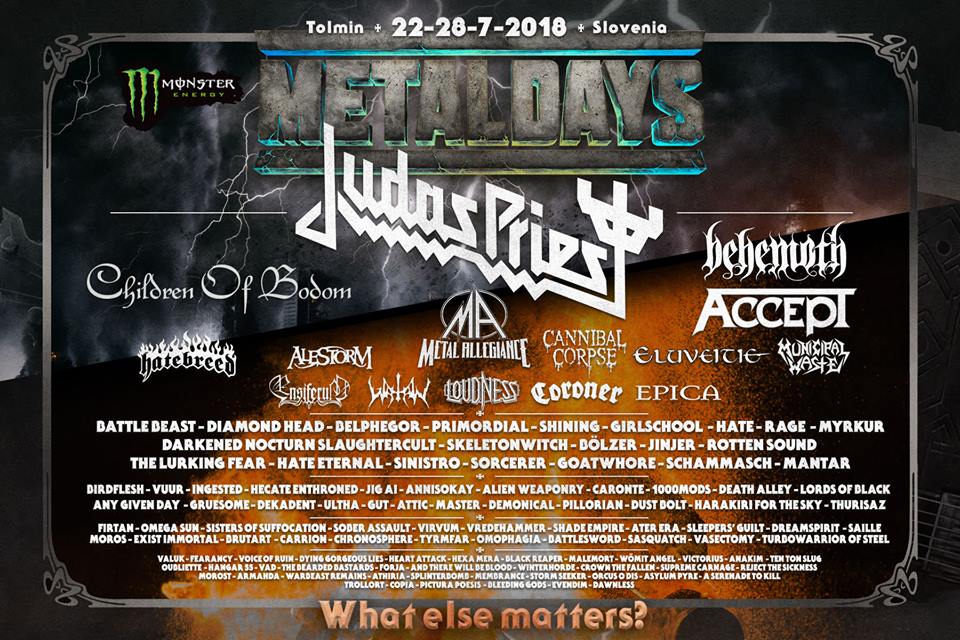 Judas Priest, Behemoth, Children of Bodom, Eluveitie, Metal Allegiance, Mantar,  Sisters of Suffocation, 1000mods, A Serenade To Kill, Accept, Alestorm, Alien Weaponry, Anakim, And There Will Be Blood, Annisokay, Any Given Day, Armahda, Asylum Pyre, Ater Era, Athiria, Attic, Battle Beast, Battlesword, Bearded Bastards, Belphegor, Black Reaper, Bleeding Gods, Bölzer, Brutart, Cannibal Corpse, Caronte, Carrion, Chronosphere, Copia, Coroner, Crown The Fallen,Darkened Nocturn Slaughtercult, Dawnless, Death Alley, Dekadent, Demonical, Diamond Head, Dreamspirit, Dust Bolt, Dying Gorgeous Lies, Ensiferum, Epica, Evendim, Exist Immortal, Fearancy,Firtan, Forja, Girlschool, Goatwhore, Gruesome, Gut, Hangar 55, Harakiri For The Sky, Hate, Hate Eternal, Hatebreed, Heart Attack, Hecate Enthroned, Hexa Mera, Ingested, Jig Ai, Jinjer, Lords Of Black, Loudness, Malemort, Master, Membrance, Moros, Morost, Municipal Waste, Myrkur, Omega Sun, Omophagia, Orcus O Dis, Oubliette, Pictura Poesis, Pillorian, Primordial, Rage, Reject The Sickness, Rotten Sound, Saille, Sasquatsch, Schammasch,Shade Empire, Shining, Sinistro, Skeletonwitch, Sleepers' Guilt, Sober Assault, Sorcerer, Splinterbomb, Storm Seeker, Supreme Carnage, Ten Ton Slug, The Lurking Fear, Thurisaz, Trollort, Turbowarriors Of Steel,Tyrmfar, Ultha, Vad, Valuk, Vasectomy, Victorius, Virvum, Voice Of Ruin, Vredhammer, Vuur, Warbeast Remains, Watain, Winterhorde y Wömit Angel.