El festival francés, Hellfest Open Air, cerro el  13 de Diciembre su cartel para la edición del 2018, repasamos todas las confirmaciones.
Aunque las entradas llevan tiempo agotadas y el festival francés no había terminado de confirmar que bandas formarían parte de su XIII edición, el miércoles   desvelo por fin el cartel completo con todas las confirmaciones que repasamos a continuación:
Iron Maiden, Judas Priest, Nightwish, Megadeth,The Hollywood Vampires (Johnny Depp, Joe Perry, Alice cooper y Mat Surom), Marilyn Manson, Limp Bizkit, Avenged Sevenfold, Stonesour, A Perfect Circle, Deftones, Body Count, Parkway Drive, Bullet For My Valentine, Body Count, Pleymo, Steven Wilson, Europe, Accept, Joan Jett And The Black Hearts, Jhonattan Daves, Tremonti, Arch Enemy, Meshuggah,Converge, Killswicht Engage, Asking Alexandra, Powflo, In This Moment, Shinedown, Rose Tattoo, Iced Earth, Primal Fear,Orden Ogan,  Sons Of Apolo, Tesseract, Rise Of The Northstar, Stray From The Path, Eskino Callboy,Fred The Rhino, The Chris Slade  Timeline, Toseland, Electic Mary, The Raven Age,  Savage Messiah, Bukowski, Black Bomb, A Malemort, Tremplin, Voice Of Hell, Dimmu Borgir, Satyricon, Watain, Children Of Bodon, Therion, Exodus,Carpenter Brut, At The Gates, Carnivore A.D, Domilition Hammer, Exhorder, Nile, Suffocation, Kataklysm, Origing, Amorphis, Memorian, Ackercoke, Ensisferun, Solstafir, Enslaved, Septicflesh, Batushka, Arkona, Mysticum, Saor, Heilung, Manegarn, Oranssi, Pazuzu, Nordjevel, Psykup, Benighted, Exumer, Rotten Sound, Misanthrope, Demilich, The Lurking Fear,Crisix,  Bloodshot Down,  The Walking Dead Orchestra, Drakwald, Hexecutor,Malkavian, Young And In The Way, Schammasch, Mispriming, The Great Old Ones, Au-Desus, Hantaoma, Darkehold, Cainan Dawn, Peénses  Nocturnes, Plebeian, Grandstand, Rise Against, The Hellacopters, Bad Religion, Turbonegro, Neurosis,  Dead Cross, Amenra, Hatebreed, Cro-Mags,  Orange Globing, Dálek, H09909, Zeal Ardor, Nebula, Chrch Of Misery, Baroness, Madball, 7 Seconds, Terror, Gluecifer, Backyard Babies, Uncommonmefronmars, Burning Heads, Les Sherrif, The Bronx,  Corrosion  Of Conformity, Eyehategod, Crowbar,  Modern Life Is War, Knocked Lose, Turnstyle,  Get The Shot Incendiary, Spernberds, Hard Ons,  Seven Hate,  Lords Of Altemont,  The Good The Bad And The Zugly, Bunkim, Pogo Car, Crash Control, Grave Pleasures, Bongzilla, 1000Mods, Monolord, Warning, Dopethrone, Sons Of Otis, Black Rainbows, Fange,  Jessica 93, The  Texas Chainsaw y Dust Lovers.

Os dejamos con el póster donde podéis apreciar todas las confirmaciones anteriormente mencionadas.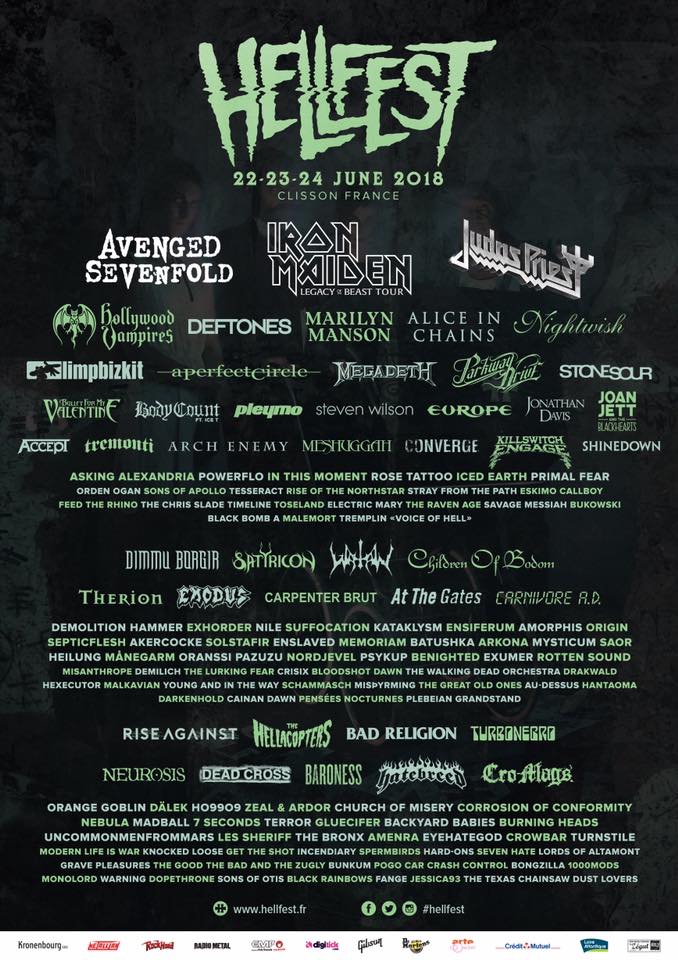 como viene siendo habitual el festival  tiene lugar en Clisson Francia los días 22, 23 y 24 de Junio.